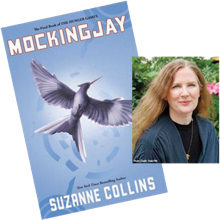 With just 12 days to go, Suzanne Collins writes a special request to fans when the final book of The Hunger Games, Mockingjay comes out:



Dear Readers,

I can't tell you how excited I am for the release of Mockingjay on August 24th, and how grateful I am for all the anticipation that's been expressed in advance of the release date. One of the most important things to me is that everyone in the world is going to be able to experience the final book of The Hunger Games all at the same time, and be able to discover what happens in the book without hearing about it elsewhere first. Word will certainly travel fast, but I urge you – before or immediately after August 24th – to please respect the other Hunger Games fans worldwide and avoid sharing any spoilers, so that the conclusion of Katniss's story can unfold for each reader the way it was meant to unfold.

I am eagerly looking forward to August 24th and the entrance of Mockingjay in the world. Then (and only then) let the conversations begin!

Sincerely,
Suzanne Collins




I will support this! Because each reader deserves to experience the book the way it should be experienced without other people spoiling it.

I remember almost arguing with these girls on the day of getting Harry Potter and The Deathly Hallows. They were openly discussing what would sound to me as "spoilers" as we were lined-up to pay. I want to grab the nearest book and whack them, but I guess that would be unfair to the book being used like that. ;-)

If we will post our reactions on blog and twitter too, maybe we can alert readers about potential spoilers as well. Or better yet, maybe we just can huddle in a forum where spoilers are welcome! I just hope people we encounter personally won't be potential spoilers as well. Just in case, I'll bring my earplugs. :p



Note:

In honor of Mockingjay and while waiting for its release, some of the YA authors are participating in a YA Fantasy Showdown where some of our favorite characters are pitted against each other. There are short stories of their battles and we get to vote (and comment) who we think wins. There's Jace (Mortal Instruments) against Daniel (The Dark Divine), and even Katsa (Graceling) and Edward (Twilight). Go check it out HERE!