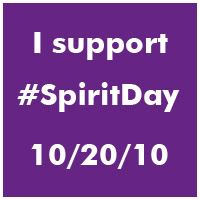 You can show support for the campaign for LGBT and commemorating the people whose lives were cut short because of anti-LGBT bullying.

GLAAD has made October 20 #SpiritDay. Visit their website to know how you can partake in the event in your social networking sites, and don't forget to wear something purple to show your support.

We all have rights to express who we are regardless of what the society thinks. If you think differently, then at least have a bit of decency and sensitivity to respect individuality.

Peace out.